Almost everyone knows that the capital city of Jakarta is a busy, filled with a number of people who exploded with a barrage that brought the dynamics of each individual. Jakarta has an area of approximately 661.52 km ² (ocean: 6977.5 km ²), with a total population of 7,552,444 inhabitants (2007). Along with the Greater Jakarta metropolitan population of about 23 million inhabitants, this is the largest metropolitan areas in Indonesia or a sixth of the world.
Contradiction is the ordinary thing in Jakarta. Jakarta has 130 mall (this number is thenumber of malls in a city most listed in world record), whereas there were only four city park in Jakarta. Luxurious Louis Vuitton window display can be found on the heart of Jakarta, buildings and skyscrapers, but once we can also see trash, slum housing, and all problems of poverty that followed.
As the Capital City in my opinion the Jakarta city administration systems are not built with sound planning, then added the failure of national development programs during the new order and political reforms that led to the disruption of the structure of community life in Jakarta.
With this state of Jakarta increasingly untidy, even their own people have a tendency to be skeptical of his own city. The answers 'Well I live in Jakarta dizzy' or 'very severe Jakarta is' often heard the voice of the people on the reaction of questions about the opinion of the city itself.
Fragmentation occurs on the social gap between city dwellers too much contrast, it is sharpening the Jakarta public properties that taking too much pride, not to be outdone, spontaneous and individualistic. When asked if Jakarta is the place conducive to live the answer is' Yes, I love Jakarta 'but when asked how life in Jakarta, the answer is' Crazy, Jakarta's urban hell' or 'Jakarta? City of Satan!", or even worse "URBAN HELL".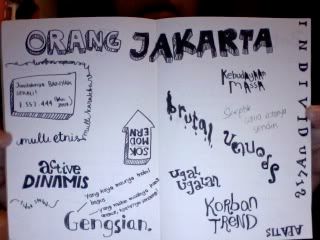 BETTER CITY, BETTER LIFE
How to make it happen? I think personally, Jakarta, which is rich in cultural values and history are now experiencing the typical culture of color degradation. Culture that characterised the people of Jakarta slowly disappeared with the invasion of the west in the form of trade globalisation. Of Starbucks, McDonalds, and a handful of other invasions in the form of rampant here incognito. People Jakarta's very easy to be influenced especially if the approach through lifestyle, such as the phenomenon of 'convenient stores', started from hanging out in front of the Circle-K, which is now fame has been replaced by a Japanese convenient store outlets named '7 eleven', which I presume as a disguised symbol of waste. Because I think most of the children in Jakarta do an activity just because they want to maintain a visual image of themselves rather than do something on the basis of usability, functionality, and meaning.
Kids of Jakarta appreciate something less packaged locally this is proven by the slowdown experienced by the places nuanced 'old school' in the city. They even doesn't feel the nostalgia in a piece of bread 'Tan Ek Tjoan', merriment among the colourful cake in the 'Pasar Kue Subuh Senen', or the leather and rubber fragrant i Laba-Laba the shoemaker, as well as the feeling of curiosity while waiting for the black and white film processed 'Jakarta Photo' Sabang area which is now its fame was kicked out by the services company from Japan's.
Jakarta has a million problems, ranging from mental problems of community resources, economic, political, and natural. If you start with the construction-development would add to urban problems because the land here is very narrow.What can be done if the existing conjure something more fun with the interactive creative design. The aim is that people are already skeptical about the city can begin to appreciate his own city. Positive program ever undertaken is the revitalization of the old city and a video screening in the park Fatahillah.
Legalisation one area nightclubs and gambling arena in my opinion is one way to make Jakarta a better.
Brainwash young children with advertisements for a good bike that is increasingly becoming a trend bikes and kids will care about pollution in Jakarta
Change city signage to be more character, interesting and interactive.
Make more trivia rather than rules, Because rules are made to be broken
Using local myths character to persuade jakartans
How to make Jakarta a better city to live?
We think that if we want to make Jakarta a better city, we must start from the human resources. Everything that exists now is the result from the past. Culture is the result of a particular society at a particular place and time. There is a quote from Otto Frank, "To build a future, you have to know the past." There is also a motto from the first president of Indonesia, Ir. Soekarno called JAS MERAH (literally translated as RED COAT), Jangan sekali-sekali melupakan sejarah (Don't ever forget the past). In this case, the culture we bring up is the culture that already exists in Jakarta's society from long time ago and still exists till today. 
The best thing to brand Jakarta is using Jakarta's local content, such as myths, beliefs, historical background, and folklores as a mediator to achieve our main objective.
GENERAL OBJECTIVE        :     encourage the Jakartans to change their bad behaviour and state of mind to a better one in the next 5-20 years, by telling them that planting trees is good.
Check this link for complete stories and pictures of Betawi Folklore (in Indonesian)
http://www.jakarta.go.id/v70/index.php/en/cerita-rakyat-betawi
Other advantages
Vigorously attractive for both local citizens and tourists
Educative (history & culture) and easy to be accepted
EXCITEMENT FOR ALL
Can be accepted as street art
maintaining culture heritage of authentic Indonesia  especially Batavian.